Is your refrigerator leaking? Is it failing to keep your food and beverages cold and fresh? Is it staying too cold, giving all of your food frostbite? Whatever your refrigerator repair needs, you can count on Mark's Appliance Repair in The Bronx for the fast and reliable service that will get your fridge back to work. We know that when it comes to refrigeration repair, time is of the essence if you want to keep your food from spoiling. We also know that you want the problem solved the first time, which is why we try to provide quality refrigerator repairs—and why we stand behind all of our workmanship with a 90-day guarantee. Contact us via phone or e-mail today to learn more, and to bring a refrigerators repair technician out to your home!
Our licensed, bonded, insured, and EPA-certified team is fully equipped to tackle just about every problem your fridge can experience. Depending on the reason you're seeking refrigeration repairs, we might need to repair or replace components including the:
Evaporator fan
Condenser fan
Door seal
Thermostat
Defrost timer
Door switch (for the light)
Coolant
Compressor
We've been in the refrigerator and ice maker repair business since 2003, and those 10 years on the job have given us a wealth of knowledge and skill in carrying out refrigerator repairs. You can trust us for efficient and effective refrigerator repair service, whatever issue you're having. We're pleased to repair a wide array of makes and models, so if you need GE refrigerator repair, Maytag refrigerator repair, or refridgerator repair for any other brand, you can count on us. We know what differentiates certain brands from one another, and we'll tailor our services and the refrigerator repair parts we use accordingly.
Emergency Refrigerators Repair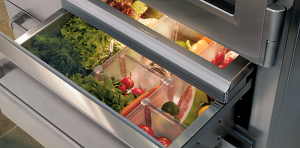 Mark's Appliance Repair prioritizes quick turnarounds on every job. But more than that, if you need refrigeration repair immediately, we'll do our best to get out to your home right away. By making emergency refrigerator repair service available to Bronx-area residents, we're hoping to help you avoid the frustration and disruption that having a broken fridge can cause to your routine.
We strive to keep our prices for refridgerator repair among the lowest in the local area. While refrigerator and ice maker repair tend to be less expensive than purchasing a new model, we understand that you still don't want to break your household budget paying for refrigerator repair. We're confident that you'll be satisfied with the quality and speed of our refrigeration repairs, while also loving the price tag. Call Mark's Appliance Repair today to discuss your needs!