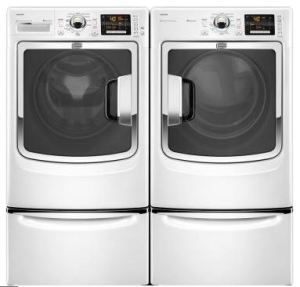 If your dryer is overheating, not heating enough, or just not getting your clothes dry, don't reach for your dryer repair manual and your tool box. Pick up the phone and call Mark's Appliance Repair instead. Professional dryer repair is far more effective than amateur or DIY repairs, and in The Bronx and the surrounding area, Mark's Appliance Repair is your proven source for excellent dryer repair service. Our top priorities are giving you a quick turnaround and providing you with a reasonable price, while still resolving your clothes dryer repair issues properly. Make the right choice for your dryer by contacting us today to book the dryer repairs you need!
We've been providing washer/dryer repair to residents of The Bronx and environs since 2003. Thanks to our decade of experience, we're equipped with the knowledge and skill that it takes to get the job done right. Whatever dryer repairs are necessary in your case, we'll call on our years in the business and our extensive training to give you great results fast. We'll accurately diagnose the root cause of your dryer repair issue and efficiently conduct repairs or replacement of parts such as the:
Heating element
Thermostat
Door switch
Door gasket
Timer
Electronic ignition (for gas dryers)
Drum bearing
Drum belt
Motor
We're pleased to provide both electric and gas dryer repair for most major brands. If you need Maytag dryer repair, GE dryer repair, or Frigidaire dryer repair, you can trust Mark's Appliance Repair to understand the specifics of your unit and tailor our solutions accordingly. To give you even more confidence in our knowledge and our workmanship, we offer a 90-day warranty that covers both the washer/dryer repair parts and our technicians' labor. You can breathe easy when you hire us for dryer repair service, knowing we'll get the job done right.
Affordable Clothes Dryer Repair
If you're pulling out your dryer repair manual because you're concerned that professional electric or gas dryer repair will cost you an arm and a leg, you can stop worrying. Mark's Appliance Repair is pleased to bring our customers some of the lowest prices around for washer and dryer repair. For our unbeatable rates, you'll gain access to our licensed, bonded, and insured specialists, who will work hard to get your dryer back in action as soon as possible. If you live in The Bronx or the surrounding area and need Maytag dryer repair or repairs for any other model, call us now!