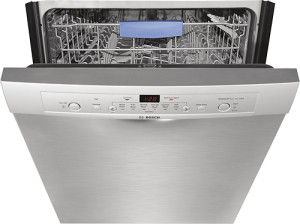 If your dishwasher isn't pulling its weight, you'll find that cleanup after meals gets a lot more time-consuming. After all, washing every dish, glass, and piece of silverware by hand takes so much longer than sticking them in your dishwasher. Return your kitchen routine to normal by bringing in the dishwasher repair professionals at Mark's Appliance Repair. We're your source for dishwasher repairs in The Bronx, offering fast, reliable service at competitive prices. Whether you require dishwasher rack repair or more comprehensive repair services, we've got you covered. Call or e-mail us today to schedule your appointment with our team!
Mark's Appliance Repair has been in the dishwasher repair business since 2003. We'll put our 10 years of hands-on experience to work for you to give you repairs that are accurate and effective. We're familiar with most major brands and models, so you can call us for Bosch dishwasher repair, GE dishwasher repair, or Maytag dishwasher repair and trust that we'll know how to handle your model's unique features. Contact us for issues including:
Leaks
Failure to fill
Failure to drain
Failure to get dishes clean
Unusual odors or noises
Complete failure to start
Perhaps the dishwasher repairs you need involve replacing your unit's water inlet valve or door switch. Perhaps you need repairs to your heating element. Whatever the case, we'll provide dishwasher repair in your home that will give you immediate results as well as long-term improved performance. For your added protection and peace of mind, Mark's Appliance Repair offers a 90-day warranty that covers both our dishwashers repair parts and our technicians' labor. 
Licensed for Dishwasher Repair in The Bronx
How can you be sure Mark's Appliance Repair offers some of the best dishwashers repair around? For starters, we're fully licensed for all of the services we offer. We're also completely bonded and insured. When you hire us for dishwasher rack repair or whatever else you need, you can be sure that your appliance is in excellent hands.
Call today to learn more about choosing Mark's Appliance Repair for Bosch dishwasher repair, GE dishwasher repair, Maytag dishwasher repair, or whatever else you require. We offer great services at some of the lowest prices in the local area, no matter how serious your repair needs. We look forward to making you our next satisfied customer!